by
Hazuki Neko
on
May 14, 2013
Hazu's Here!!!
That time again…….SUMMER!!! Meaning I am back~ School's out and soooooo is the anime! Look for new updates on what's hot and what's not! We haven't had a new story in awhile so I want to make this one good!
Side-note: We are ALWAYS looking for good and willing help~! Animetip depends a lot by fans (okay mostly Blue but hey we do our part too!) Interested? Doesn't matter if you want to write articles or add anime. Or if you even just have an article tip you want to share! (email me those: HazukiNeko@live.com) Email or private message me on the chat. We can talk!
Toriko, One Piece, and Dragon Ball Z to collaborate for one-hour special
On February 5, it was announced that in April, Fuji TV's ongoing anime "Toriko" will collaborate with the animes "One Piece" and "Dragon Ball Z" for a special one-hour program titled "Dream 9 Toriko & One Piece & Dragon Ball Z Chou Collab Special" to commemorate the Toriko's third year. The special will aired on April 7.
Last April, "Toriko" and "One Piece" collaborated to create a special and received a favorable response. This year, they hope to receive the same reception with the addition of "Dragon Ball Z". Heroes Toriko, Luffy, and Goku will all appear together on the same screen for the first time.
The special will feature a race titled "Tenkaichi Kuoukai" sponsored by IGO (International Gourmet Organization) where Toriko and gourmet hunters belong. The grand prize of the race is a luxury ingredient, and Toriko and his fellows as well as the Straw Hat Pirates from One Piece enter to obtain the ingredient. Goku and his Dragon Ball members also enter the race, and a fierce battle ensues to determine the winner.
Source : Sanspo
"Ghost in the Shell" series' new anime project "ARISE" announced
The production of popular anime "Ghost in the Shell" series' new project "Ghost in the Shell ARISE" has been announced.
This "Ghost in the shell" series is a cyberpunk based on Shirow Masamune's popular manga which was released in Young Magazine Kaizokuban in 1989. Setting in the near future in Japan where technology has been advanced drastically, it tells a story about the members of "Public Security Section 9″, which was organized to oppose an epidemic of computer crime and cyber terrorism.
In 1995, its anime film adaptation "GHOST IN THE SHELL" directed by Oshii Mamoru was released, and Oshii also directed the sequel titled "INNOCENCE" in 2004.
Apart from Oshii Mamoru's anime film adaptation, there has also been TV anime sereis "Ghost in the Shell STAND ALONE COMPLEX" (in 2002), "Ghost in the Shell S.A.C. 2nd GIG" (in 2004), and "Ghost in the Shell STAND ALONE COMPLEX Solid State Society" (in 2006) directed by Kamiyama Kenji.
The "ARISE" will be animated by Production I.G, and Kise Kazuchika has been chosen as the general director. It was also announced that Ubukata Tow who is known for his novel "Tenchi Meisatsu", will be in charge of the script and composition, and CORNELIUS will be in charge of its music. Moreover, the author of the original manga, Shirow Masamune will also participate in the new project.
No other details on the "ARISE" have been revealed at this moment, but a press conference will be held at the nicofarre in Roppongi. At the press conference, more details including the format of the anime and a teaser will be revealed. There will also be a talk show by its staff members and guests. Reportedly, the press conference will be live broadcast on the official site (here).
Studio Ghibli postpones the release of "Kaguya-hime no Monogatari"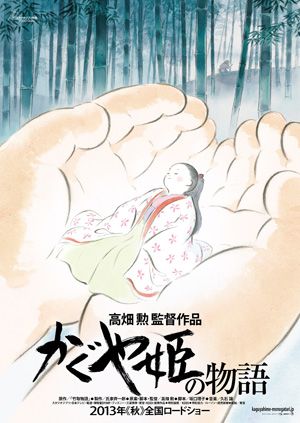 The release of Studio Ghibli's upcoming movie "Kaguya-hime no Monogatari", directed by Takahata Isao, has been postponed to this fall.
It was originally set to release this summer simultaneously with Miyazaki Hayao's new movie "Kaze Tachinu". It would have been the first time for Studio Ghibli to release two movies on the same day separately, though they have released "Tonari no Totoro" ("My Neighbor Totoro") and "Hotaru no Haka"("Grave of the Fireflies") as a double-feature movie back in 1988.
According to Toho, the distribution company, "We received a report from Studio Ghibli that the storyboard has not been completed yet, though its progress was almost as same as 'Kaze Tachinu'. After considering various situations, it's been decided to postpone the release to this fall. We apologize to all of the fans who have been waiting for the release of the movie, and please wait and look for 'Kaguya-hime no Monogatari', which will be even more attractive when it's released."
"Kaguya-hime no Monogatari" is Takahata's first movie in 14 years since "Hohokekyo Tonari no Yamada-kun" ("My Neighbors the Yamadas") and is based on "Taketori Monogatari", which is considered the oldest existing Japanese narrative. It is said to be like a Japanese version of 'Heidi'.
Miyazaki's new movie "Kaze Tachinu", on the other hand, will be released this summer as planned.
Oguri Shun & Miura Haruma to lend their voices for upcoming "Captain Harlock" anime film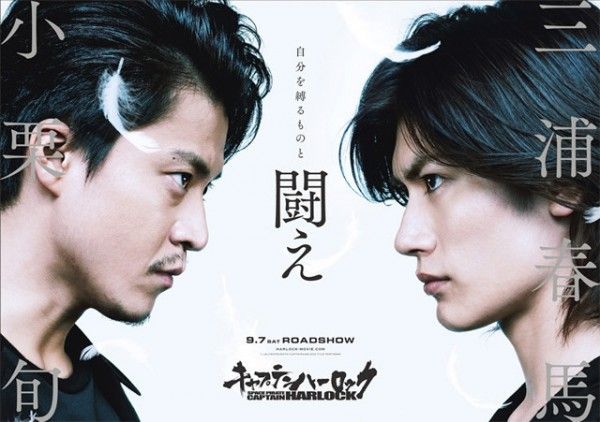 The cast members who will voice the main characters for upcoming CG anime film "Space Pirate Captain Harlock" have been revealed.
"Space Pirate Captain Harlock" is originally a manga series written by Matsumoto Leiji, which got TV anime adaptation back in 1978.
It depicts the activities of a space pirate "Harlock", who rises up against the Earth's government and fights for mankind, and his 40 crew aboard his invincible starship "Arcadia".
The protagonist "Harlock" will be voiced by Oguri Shun, while Miura Haruma will lend his voice to a new character named "Yama."
Oguri commented, "I was really surprised to receive the offer for this, but it's such an honor to be able to participate in a big project like this. I've always thought of a cool image for Captain Harlock." Regarding his co-star, Miura, Oguri said, "Because I rehearsed with Miura-kun, we were able to express each of our characters, as well as their relationship in a deeper manner."
Miura's character "Yama" is a newly created character for the film, and he is a young man who infiltrates into the Arcadia to assassinate Harlock. This will mark his first time voice acting. He left a comment saying, "I've always wanted to try voice acting, but getting such a masterpiece as my first work (for voice acting) made me both happy and anxious."
The anime film is directed by Aramaki Shinji ("Starship Troopers: Invasion", "APPLESEED"), and Fukui Harutoshi ("Boukoku no Aegis", "Mobile Suit Gundam Unicorn") is in charge of the script.
It was also revealed the cast members who will voice Harlock's crew include Aoi Yu, Furuta Arata, and Fukuda Ayano.
"Space Pirate Captain Harlock" will open in theaters on September 7th.