by
Hazuki Neko
on
Tuesday Jul 17, 2012
Hazu Again~
Me again. I don't have any "news" related things today, but I do have some very interesting things to share! Most who call themselves "Otaku" are already very interested in Japanese culture and such, so I thought I would share a few interesting things you will of course, only find in Japan
ENJOY!
For Cat Lovers: A Fashion Accessory Powered by Excitement
We all know that Japan ranks high when it comes to making the strangest products and accessories ever. After the Nekomimi cat ears trend, here comes another product developed to add to the kitty fashion.
We already have ears, so the next thing is to have a tail! But this tail is not just one of those accessories that you put on your back for design. Like those mind-controlled cat ears, this cat tail is also triggered by something. And that is excitement.
Now, do you feel your tails wagging?
Yes, just like cats, the man-made cat tail wags when it detects excitement in its user. Made from a robotic arm covered in fur that is connected to a pulse sensor using an AVR microcontroller, which is attached to a clothespin that will be clipped on the owner's earlobe, the users pulse rate is translated into tail wags. As the owner's BPM rate goes higher, the tail moves more rapidly.
They tested the product on a girl dressed in a maid's outfit, standing in the kitchen. At first, the tail doesn't seem to move much, but when one guy calls out, "You're cute!" the tail begins to move rapidly back and forth, causing the girl to break out laughing.
As this cat tail is still in the prototype stage, a lot is needed yet to improve on in terms of the mechanisms, but we wouldn't be surprised if one day all the girls working in Akihabara's maid cafes have turned into adorable cat girls.
Resident Evil Bar' to Open in Tokyo
Capcom recently announced that a Resident Evil-themed bar will open in Tokyo on July 13, 2012.
Named S.T.A.R.S., the theme bar will be open for only one year.
This is not Capcom's first time to venture into the food service business.
"Capcom Bar" was opened earlier this year and proved quite successful. Offerings included Phoenix Wright onion rings, Monster Hunter drumsticks and other tasty dishes.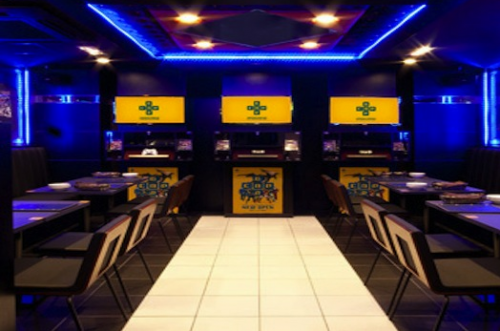 S.T.A.R.S.' menu has not yet been released, but we can expect to find the famous red and green herbs from the game in some of the food selections.
Coming to a Store Near You: The World's Most Terrifying Toilet Paper
What's the best way to spend those few minutes of peace and solitude one is afforded when defecating? Why, read a story — a scary one at that — right on your toilet paper!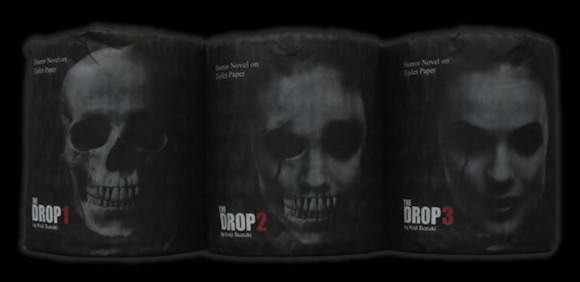 Published by tissue and toilet paper manufacturer Hayashi Paper, the story is written by Koji Suzuki, the author of the famous "Ringu" novels.
The novella titled "The Drop" is printed in three volumes, or in this case, on three rolls of toilet paper, unraveling scene after horrifying scene.

The story tells of an evil spirit that inhabits a toilet bowl. The narrative culls from Japanese superstition, of ghosts and evil spirits that inhabit the smallest room in the house.

This is why, traditionally, a Japanese toilet is placed in the farthest corner of the home. Parents still tell their children that if they misbehave, a hairy hand will seize them when they have their pants around their ankles and drag them down into the "dark water" below.

The hit Japanese version of the toilet paper was rolled out in 2009 and 2010 at 210 yen (US$2.63) per volume, selling over 300,000 volumes.

Scheduled for availability outside of the Japan, the English version of the novella will be coming out on June 21st, available at a price of 630 yen (US$7.88) for the complete set of three volumes.
Japan Takes Fast Food to a New Level: DIY
Fast food is everywhere! The growth of fast food chains can't be stopped.
In Japan, you can even enjoy your value meals in bite-size versions. Let me introduce Kracie's Happy Kitchen's Mini Hamburger.
This do-it-yourself product features a full meal, complete with soda, fries, and a burger. Fast and easy, all you need is a microwave.
Simply mix the ingredients with water and heat it in the microwave (except for the soda, of course), and you can enjoy your mini value meal anywhere!
This is not the first product of its kind released by Kracie. Actually, the company has released many do-it-yourself products, such as a sushi kit, donuts, and even spaghetti.
Pizza Flavors You Will Find Only in Asia
While we are on the topic of food. Asians have one of the most delightfully diverse palates in the world. Naturally, they want their food to be both flavorful and tasty.
Thus, the flavors found in Asian pizzas can be considered unique.
Oozing with a variety of flavors and textures, it's also safe to say that most of the pizzas from the Far East will be covered in shrimp. . .among other exotic toppings.
Read on to see which pizza flavors you could be tasting soon.
1. Shrimp and Mayo Crust Roll
When you visit Japan, remember to drop by a Pizza Hut to order the Shrimp and Mayo Crust Roll. The shrimp nuggets are injected with mayonnaise! Don't even ask about the fat content, but be sure to visit the doctor and have your cholesterol level checked after eating a family-sized pizza.
2. Triple Cheese Pizza
While cheese is traditionally used on pizza, in South Korea they use three different cheeses on each pie. It goes like this: they put cheddar cheese on top of a thin crust, then add another layer of crust with Camembert on top, finished off with a final layer of crust topped with Emmental, AKA Swiss cheese.
After finishing this pie, be sure to take your heart medication. You will surely need it.
3. Shrimp Nude
And now for shrimp on our pizzas. South Korea's Mr. Pizza uses shrimp and cream cheese to make this unique pizza flavor. For those in the U.S., you can check out Mr. Pizza in Los Angeles, too.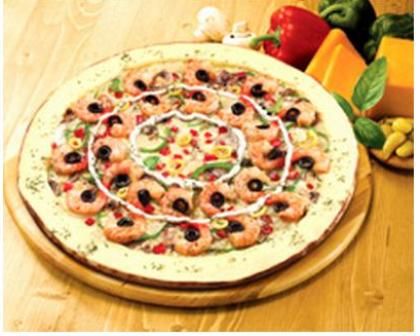 4. Grand Prix
Have you ever bitten into a pizza made not of bread but cookie dough? Step right in to Mr. Pizza and order the Grand Prix. Its toppings include sunflower seeds, pumpkin seeds, and raisins.
Of course, they also throw shrimp and potato on top, and serve it with a blueberry dipping sauce! Honestly, would you be willing to try it?
5. The Crazy Crust Trio
These pizzas come from a restaurant called Strawberry Cones, which is located in Japan.
The pizza is a combination of three downright weird flavors. Imagine choosing between these: a Sausage Crust, Mochi Crust and Cheddar Crust Sauce!
And for your choice of toppings, you have a choice between the following:
1. 7-Veggie Variety: asparagus, corn, paprika, parsley, eggplant, zucchini, onions, and pizza sauce
2. Milakoreno: hamburger, bologna sausage, fresh tomatoes, broccoli, onions, mayo, parsley, and pizza sauce
3. 5-Cheese Variety: Camembert, Samsoe, Gouda, Steppen, Parmesan, along with fresh tomatoes, garlic, basil, parsley, and pizza sauce
4. Fluffy Prince and ChikichikiTeri: Charcoal fire-grilled chicken, egg, parsley, mayo, and teriyaki sauce.
Japan Develops Robot That Can't Be Beaten at Janken
Luck is definitely not on your side when playing Janken (じゃんけん) with this robot.
Scientists from the University of Tokyo invented this unbeatable robot, which sensors the opponent's hand shape (rock, paper, or scissors) before making its own shape.
With only a one-millisecond analysis, this robot's method of cheating is hardly noticeable to the human eye.
Wanna try playing against it?
Hazu's Corner~
Hiya! This time the article is a little longer than normal. So Hazu's corner will be postponed till part II. I hope you look forward to it!