by
Hazuki Neko
on
Wednesday Jun 27, 2012
2 Years~
Hazu here again! I've been updating my music lately and I realized I have almost no English songs! Am I the only one who's that way? Can someone give me some good songs? LOL I also realized the other day, I've been here at Tip for almost 2 years. WOW. Time flies. How long have you been here? What keeps you coming back? It's okay to admit if you are in love with our awesomeness! Because I am
I actually have some pretty interesting news this time, shall I get into that now? OKAY!
Check out the final poster/trailer for movie 'Rurouni Kenshin'!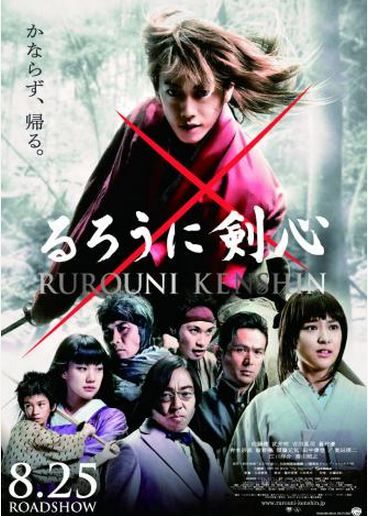 The final poster for the upcoming live-action film 'Rurouni Kenshin' has been revealed!
The cast for this movie really has my attention. If I watch this movie for nothing else I will just for the cast.
'Rurouni Kenshin' is based on a popular manga by Watsuki Nobuhiro, and it tells a story about Himura Kenshin, a swordsman who vowed that he would stop killing after the Meiji Restoration. He tries to adjust to the new era while exploring and fighting his enemies.
Back in March, the teaser poster featuring actor Sato Takeru was revealed. The theme of the visual was "Kenshin's hidden madness", and portrayed the stillness of his heart in black-and-white.
The new poster features the phrase, "I will certainly return", along with the main cast including Kenshin (Sato), Kamiya Kaoru (Takei Emi), Takani Megumi (Aoi Yu), Takeda Kanryu (Kagawa Teruyuki), and Saito Hajime (Eguchi Yosuke).
"Rurouni Kenshin" will open in theaters across Japan on August 25th.
The Yahoo! Japan website's Movies section began streaming the full 127-second trailer for the live-action film on Tuesday.
Keishi Ōtomo is directing this samurai film with 22-year-old actor Takeru Sato (Kamen Rider Den-O, Rookies, Beck, Ryōmaden) as the titular character. 17-year-old actress Emi Takei plays the heroine Kaoru Kamiya. Yuu Aoi (Hana and Alice, Honey and Clover) plays Megumi Takani, Munetaka Aoki (The Last Message Umizaru, live-action The Girl Who Leapt Through Time) plays Sanosuke Sagara, and Taketo Tanaka plays Yahiko Myōjin. Kouji Kikkawa (Let's Dance With Papa) as Jine Udō, Yosuke Eguchi (Shonan Bakusozoku, Tokyo Love Story) as Hajime Saitō, and Teruyuki Kagawa (From Up On Poppy Hill, 20th Century Boys) as Kanryū Takeda round out the cast.
The new trailer features the theme song "The Beginning" by the rock band ONE OK ROCK.
Source: TokyoHive , Anime News Network
Japanese Political Party to Hold Panel on Developing Real Gundam
Yes you read that right, no I'm not making this up! Japan is seriously thinking about making a Real Gundam. All I want to know is……..how much and how soon can I have one?
The Liberal Democratic Party, a center-right faction in Japanese politics, will hold a live, 12-hour marathon stream on the niconico service on Thursday, and one of the marathon's panels will discuss "the Gundam Development Project, as seriously considered by the Liberal Democratic Party."
Masaaki Taira and Hideki Niwa, two members of Japan's House of Representatives, will speak during the 8:00 p.m. panel with their guest, novelist Harutoshi Fukui. Fukui happens to be the writer of the Mobile Suit Gundam UC novels.
Taira reported last year that his party would consider adding the efforts to realize "piloted, two-legged walking humanoid robots" into the party's platform manifesto. Taira also posted an extended discussion about the feasibility of piloted walking robots on Twitter, using the anime and manga titles Gundam, Appleseed, and Patlabor as examples. Taira broached the topic after meeting with Katsuya Kanaoka, a professor of robotics from Kyoto University.
In 2008, SciencePortal.jp, a website run by the Japan Science and Technology Agency (JST), released a report estimating how much it would cost to build a 18-meter-tall (59-feet-tall), functioning "Morph-X" combat robot similar to those used in Gundam. The Japanese government funds about 90% of JST's budget, with the remaining coming from the agency's own operational income.
The Technical Research and Development Institute in Japan's Ministry of Defense included a ground equipment exhibit titled "Towards the Realization of Gundam (Advanced Personal Equipment System)" in a defense technology symposium in October of 2007. Earlier that very same month, Japan's Ministry of Agriculture reprimanded six of its employees for editing the Japanese Wikipedia encyclopedia article on Gundam during work hours; a spokesperson explained that the "Ministry of Agriculture is not in charge of Gundam."
Source: Anime News Network
Gundam Pepsi Cans Celebrate Mini Theme Park's Opening
Well while we are talking about things Gundam! The Japanese beverage maker SUNTORY Foods International announced that it will sell Gundam Pepsi Cola cans as tie-ins to the Gundam Front Tokyo entertainment complex that just opened in April. A limited number of the "Pepsi Cola Design Cans" will go on sale throughout Japan, starting on August 7.
The 115-yen (about US$1.45) cans will feature eight different designs:
RX-78-2 Gundam
RX-77-2 Guncannon
RX-75 Guntank
SCV-70 White Base
MS-06F Zaku II
MS-06S Zaku II Char's Custom
MS-07B Gouf
MS-09 Dom
Gundam Front Tokyo opened next to the life-size Gundam statue that returned to Tokyo on April. It includes a dome theaters for immersive videos, a project display zone with rare production materials, an archive counter that will offer visitors information on various Gundam projects, and "photospots" for taking pictures within the world of Gundam (with characters). Naturally, it also has several shops for models, apparel, snacks, and more.
Source: Anime News Network
2012 J-Pop Summit Festival Presents the U.S premiere of the 'Evangelion Pop Up Museum'
NEW PEOPLE, a dynamic entertainment destination bringing the latest examples of Japanese popular culture to North American shores, is proud to present the U.S. premiere of the Evangelion Pop Up Museum as part of the 2012 J-Pop Summit Festival. This special exhibit staged inside the SUPERFROG Gallery [3rd floor], launches on Saturday, August 25th and is co-produced by Nippon Television and NEW PEOPLE.
The 2012 J-POP Summit Festival commences with the theme of "Cyberpop Overload!" and will be held across San Francisco's Japantown, on Saturday, August 25th and Sunday, August 26th. General admission to Evangelion Pop Up Museum is $5 with re-entry stamp, but will only run for the duration of the J-Pop Summit Festival. Tickets will be available at SUPERFROG Gallery on the day of the event.
This special event will offer an extensive collection of original concept and production art, character drawings and other key artifacts from the famed Evangelion: 1.0 You Are (Not) Alone and Evangelion: 2.0 You Can (Not) Advance film series. Anime, Manga and sci-fi fans are invited to enjoy this unique exhibit and catch a rare inside glimpse at how original drawings, computer graphics and animation for these films were created. A variety of rare and valuable Evangelion books, toys and collectables, and other items will also be on display.
"Evangelion is one of the most successful anime properties ever produced and its massive international popularity approaches an almost religious following among fans," says Seiji Horibuchi, the President/CEO of NEW PEOPLE, Inc. and Chairman of the J-Pop Summit Festival Committee. "We are extremely honored to offer J-POP Summit attendees this special opportunity to enjoy a wide range of captivating artwork and other rare artifacts from the show that have never been exhibited before outside Japan."
A variety of other pop-inspired attractions including fashion shows, theatrical film premieres, live art performances, celebrity appearances, and mini-concerts by some of Japan's hottest bands are planned for the 2012 J-Pop Summit both inside the NEW PEOPLE complex, and outdoors at the adjacent Peace Plaza. Innovative artists from Japan will join a variety of product merchants and food vendors from the Bay Area to offer an array of pop-inspired products and delicacies for sale in open air displays on both sides of Post Street.
Will you be attending the event?
Source TokyoHive
Got A Story?
Do you have a tip or a story of something interesting happening in the world of anime? Email me HazukiNeko @ HazukiNeko@live.com. I will review and share what I can! As always see you next time fans!